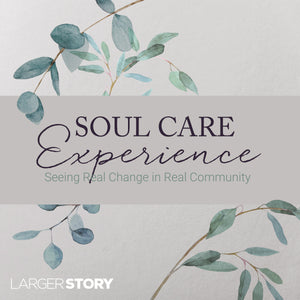 In this in-depth study, we pursue what it means to be self-aware. From an understanding of yourself, you can move outward in your display of Christ's love. Learn what it means to relate and bear the image of Christ in conversation.
THE SOUL CARE EXPERIENCE TEACHES US:
LESSON 1: SELF-OBSESSION: Our Deepest Reality
LESSON 2: THINK BENEATH: God-Obsession vs. Self-Obsession
LESSON 3: THINK PASSION: What's Happening in You?
LESSON 4: THINK VISION: What Is God Doing?
LESSON 5: The Purpose of Telling Stories
LESSON 6: THINK STORY: Learning to Listen Well
LESSON 7: THINK MOVEMENT: The Cycle of Spiritual Formation
LESSON 8: The Exact Center of the Christian Life
LESSON 9: Dancing With God into the Life of Our Spouse: The NewWay Key to Marriage (With implications for all close relationships)
LESSON 10: Dancing with God Into the Lives of Our Children: The NewWay Key to Parenting (With implications for all adult-child relationships)
LESSON 11: Reaching the Heart: A Live Conversation
LESSON 12: The Call to Joy: Our Longing for God