Just like a well-tended garden yields a bountiful harvest, your generous support enables Larger Story to equip believers of all ages in nurturing Christ-following relationships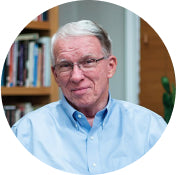 Larger Story, the legacy ministry of Dr. Crabb, helps churches and individuals move beyond simply affirming Biblical belief systems or improving external behavior. We foster transformational spiritual communities that experience God as they become people whose way of relating extends a persuasive invitation to those who don't yet know Jesus.
Thank you for being an essential part of our nurturing community!