Believers of all ages - especially young people - are increasingly disconnected from faith communities. Build bridges that cross dividing walls, beginning with those you love.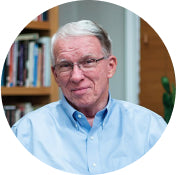 Larger Story, the legacy ministry of Dr. Crabb, helps churches and individuals move beyond simply affirming Biblical belief systems or improving external behavior. We foster transformational spiritual communities that experience God as they become people whose way of relating extends a persuasive invitation to those who don't yet know Jesus.

Digitally Supported Discipleship Courses
Looking for a spiritually transforming experience instead of just an accumulation of knowledge?
$90k enables us to produce and share the next series of digitally supported discipleship courses that combine the wisdom of Scripture with opportunities for thoughtful listening, holy curiosity, and heart-engaging discussion. Our courses both model meaningful intergenerational dialogue and create opportunities for conversations of eternal significance.
Support This Project

Off-Track
In one of his final manuscripts written before his death, from the perspective of more than six decades of pursuing Jesus, Dr. Larry Crabb explored the question: "How do we know that we're on track as we seek to follow Jesus?"
$40k covers publication, production, and marketing costs for placing this book into the hands of those seeking to live faithfully amid challenging times and, ultimately, to finish well.
Support This Project

NextGen Outreach
Have you tried to share Larry's books with someone you love, but they just aren't enthusiastic readers?
$30k will help lay the foundation for a variety of new offerings designed to present to a new audience Larry's insights into Scripture and the struggles of the human heart in easily accessible formats. Your donation enables us to launch the Larger Story podcast and create a more cohesive online experience through an updated website. We'll also be adding interactive online community-building events in 2023.
Support This Project
We'd like to thank you for your gifts that make our work possible!
Supporters at each of the levels will be contacted with details on claiming their gifts.
Partner
One time or recurring gift totaling $15,000
Access for 10 to Experience a Grand Adventure with LS Facilitator (3 Months)
Larger Story Jacket
Journal
Special Thanks in Off Track
Legacy Member
One time or recurring gift totaling $7,500
Access for 10 to Experience a Grand Adventure (3 Months)
Larger Story Jacket
Fellow
One time or recurring gift totaling $2,500
Access for 2 to Experience a Grand Adventure (3 Months)
Larger Story Throw
Benefactor
One time or recurring gift totaling $1,000
Access for 1 to Experience a Grand Adventure (1 Year)
Advocate
One time or recurring gift totaling $500
Affiliate
One time or recurring gift totaling $500