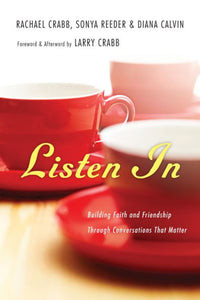 2015 Reader's Choice Award Winner
By Rachael Crabb, Sonya Reeder, Diana Calvin
We all know how discouraging it can be to share our story with someone who's not really listening. Being engaged in a conversation, just like friendship, is about so much more than simply talking. How can we use words to connect with each other in ways that can do deep and lasting good? How do we have conversations that matter?

In these pages Dr. Larry Crabb's wife Rachael and two of her friends in ministry take up this question in a creative and informative way, providing model dialogues with one another exploring the deep issues of their lives. You will be intrigued and informed by learning from their journeys, but most importantly you will learn how you can start similar conversations with your friends.
Reflection and discussion questions provide a guide for you to think about how the themes of these chapters relate to the themes of your own life journey. This makes an ideal book for small groups of women as well as for triads or pairs to read and discuss together. Along the way you will learn new listening skills as well as learning about yourself and your friends. Come along and listen in.